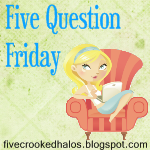 1.
What is one thing you have too many of in your house
?
We definitely have too many whisks in our house.
Let me paint a picture for you. When you can't open the kitchen drawer, without one jamming it. Or when you pull hard on the drawer and one comes flying out?
It's time to stop buying them. Or better yet. "
Honey, I need a bigger kitchen
"
2.
Did anything go not quite as planned on your wedding day
?
Well, the only thing that we didn't plan was our son's dress shirt being
lost
...I mean misplaced at the dry cleaners. They actually called us an hour later saying they found it. Woo Hoo
3.
What is your favorite summer smoothie recipe
?
I'm not a smoothie kinda girl so no favorite summer smoothie recipes.
4.
What is the weather like where you are
?
In Las Vegas, it's been extremely hot this summer. We broke some weather records with days of 117 degrees. And unfortunately, people did die from complications from the heat.
This week, we've been cooling down...around 105 degrees. Yes, these temps are much more livable.
5.
What is your favorite book to read to your kids
?
When our son was little, our favorite book was "
The Rainbow Fish
" by Marcus Pfister. The bright, glittery colors and story definitely won us over.